I think most of you already know how many benefits your skin enjoys when being treated with activated charcoal on a regular basis. But did you know that this fine black powder can improve hair too? Yes, you get this right! It was proven that charcoal also works perfectly for strands!
Lately, I was lucky to find a bestseller among all hair care products – a black hair mask by Nanoil, which offers us this incredible charcoal and white clay duo. Together they work like ying yang of personal care! In fact, there is something in that because this mask does restore balance to hair and scalp. I guess, you can't wait any longer to learn something more about this fancy hair care product so I'd better get to the point. Here is Charcoal & White Clay Hair Mask review for you.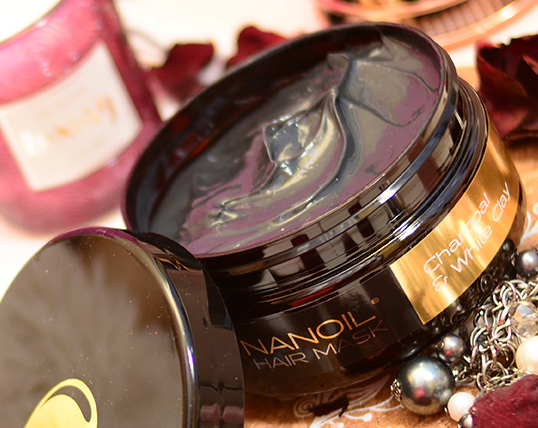 Charcoal to hair? How is it suppose to work out?
In a moment, I'll list all the benefits of charcoal that it has on hair. But before doing so, I need to tell you that activated charcoal is quite a discovery. Not only is it a drug but also a beautifying substance. It's extracted from wood pulp and then is processed by steam water and strong acids, which is an important moment because this is when the charcoal's absorption abilities are boosted. In other words, this is the very moment when charcoal becomes an expert in identifying and attracting impurities, toxins, cosmetic residues and excess sebum. This is exactly how it affects skin and strands. Therefore, if your hair:
gets oily fast
is covered by impurities and dust
is heavy and flat
seems to be lifeless
is deprived of shine
then you should consider making use of activated charcoal now! What effects can you expect? After being treated with Charcoal & White Clay Hair Mask, hair becomes clean, fresh and supplied with oxygen which is why it starts glowing faster and gets stronger, lustrous, smooth and freed from toxins. Just one use of this product boosts hair volume by lifting its roots.
White clay to hair? How is it suppose to work out?
Clay in turn is a sedimentary rock that is formed by physical weathering. After being extracted, the rock is broken into pieces, dried and sterilized. This precious finely ground powder can have various colors which means that there are different types of clays. Nanoil hair mask contains the gentlest (white) clay that is perfectly suitable to treat even sensitive skin. It's prime task is to soothe irritations.
Did you know that clay contains almost all micro and macro elements that both our hair and skin need to remain in good condition? What are the elements? For example, silicon, calcium, potassium, iron, magnesium, zinc, phosphorus, copper and selen to name just a few. Therefore, owing to such a huge concentration of minerals, clay is able to deliver nourishment to hair and scalp, yet this isn't its only ability. Recent studies proved that white clay is also responsible for delivering the cleansing and soothing effects. As it's now plain to see, white clay is a charcoal's perfect match 🙂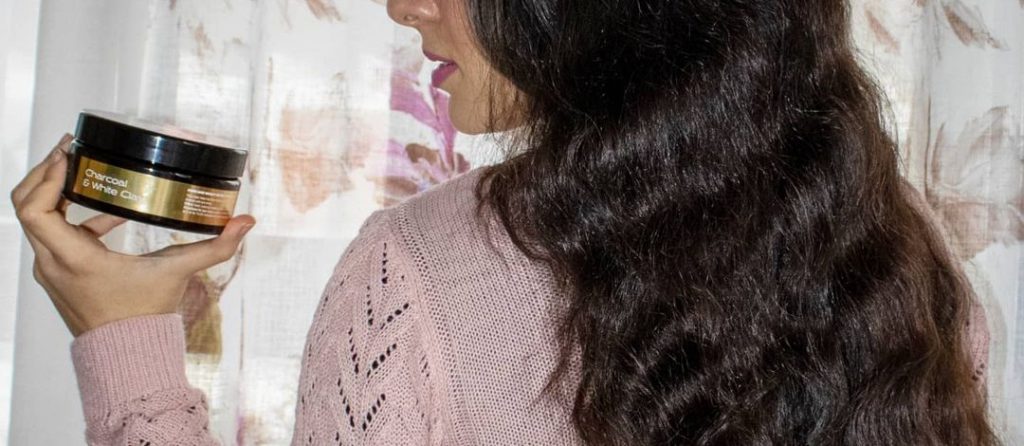 Finally, white clay is antibacterial, stimulates hair follicles and regulates oily glands, soothes irritations and even may help you style hair. It's able to lift hair roots which consequently makes hair look as if it was more of it.
What can you expect by Nanoil Charcoal & White Clay Hair Mask?
no more gresy scalp
hairdo remains fresh for long
scalp and hair are in good condition
less scalp irritations
accelerated hair growth
boosted hair volume
lustrous hair
easier styling (hair is manageable and smooth)
no more hair thinning
no more scalp acne (indeed, it can affect scalp and it's pretty hard to cure)
How did Nanoil Charcoal & White Clay Hair Mask change MY hair?
Well… my hair has never looked so wonderful before! And I mean it. It became clear to me that all the impurities and urban pollution had a negative impact on my strands: hair condition was gradually deteriorating, it didn't look good and the build-up impeded all my attempts of supplying hair with nutrients. Just a weekly application of Nanoil Charcoal & White Clay Hair Mask made my hair more nourished because finally it's able to absorb all the essential nutrients, which in fact are delivered due to white clay. This is a really great hair care product 🙂 See the effects for yourself. Last but not least, if I were to advise you on where to buy this hair mask, I'd guide you to the official Nanoil store www.nanoil.co.uk where you can check out other equally effective hair mask.